Product Summary
The AD5258BRMZ10 is a Digital Potentiometer. The AD5258BRMZ10 is designed to be used solely in a laboratory environment. The board is not intended for use as a consumer end product or as a portion of a consumer end product. The AD5258BRMZ10 is an open system design which does not include a shielded enclosure and therefore may cause interference to other electrical devices in close proximity. This board should not be used in or near any medical equipment or RF devices. The AD5258BRMZ10 is currently being processed for certification that it complies with the essential requirements of the European EMC directive 89/336/EEC amended by 93/68/EEC and therefore carries the CE mark.


Parametrics
AD5258BRMZ10 absolute maximum ratings: (1)External bus performance: 80 MHz.



Features
AD5258BRMZ10 features: (1)Core performance up to 400 MHz; (2)External bus performance up to 80 MHz; (3)120-pin LQFP package; (4)25 MHz crystal; (5)Analog Devices AD5258 TWI digital potentiometer; (6)Analog Devices ADP1715 low dropout linear regulator; (7)Numonyx M58WT032 – 4 MB (2M x 16 bits); (8)Analog Devices AD7266 2 MSPS, 12-bit, 3-channel SAR analog-to-digital converter; (9)Twelve single-ended inputs; (10)Six differential inputs; (11)Five LEDs: one board reset (red), three general-purpose (amber), and one power (green); (12)Three push buttons: one reset and two programmable flags with debounce logic.


Diagrams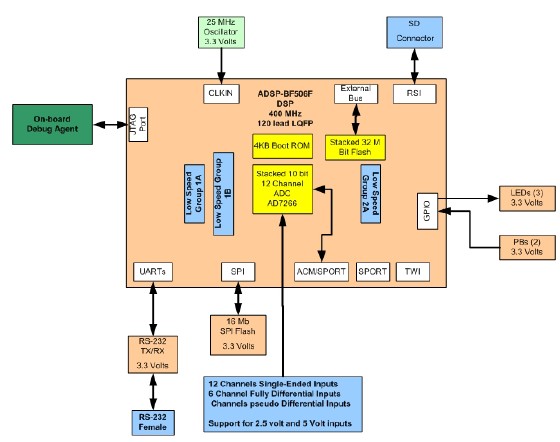 Image
Part No
Mfg
Description
Pricing
(USD)
Quantity

AD5258BRMZ10



IC POT DGTL I2C 10K 64P 10MSOP

Data Sheet



| | |
| --- | --- |
| 0-1: | $0.99 |
| 1-10: | $0.89 |
| 10-25: | $0.80 |
| 25-100: | $0.72 |
| 100-250: | $0.64 |
| 250-500: | $0.56 |
| 500-1000: | $0.46 |
| 1000-2500: | $0.43 |
| 2500-5000: | $0.42 |


AD5258BRMZ100



IC POT DGTL I2C 100K 64P 10MSOP

Data Sheet



| | |
| --- | --- |
| 0-1: | $0.99 |
| 1-10: | $0.89 |
| 10-25: | $0.80 |
| 25-100: | $0.72 |
| 100-250: | $0.64 |
| 250-500: | $0.56 |
| 500-1000: | $0.46 |
| 1000-2500: | $0.43 |
| 2500-5000: | $0.42 |


AD5258BRMZ100-R7



IC POT DGTL I2C 100K 64P 10MSOP

Data Sheet



AD5258BRMZ10-R7



IC POT DGTL I2C 10K 64P 10MSOP

Data Sheet