Product Summary
The ADSP-21469BBCZ-3 is a SHARC processor. The ADSP-21469BBCZ-3 features Analog Devices Super Harvard Architecture. The ADSP-21469BBCZ-3 is a 32-bit/40-bit floating point processors optimized for high performance audio applications with its large on-chip SRAM, multiple internal buses to eliminate I/O bottlenecks, and an innovative digital applications interface (DAI).


Parametrics
ADSP-21469BBCZ-3 absolute maximum ratings: (1)Internal (Core)Supply Voltage (VDD_INT): –0.3 V to +1.32V; (2)Analog (PLL)Supply Voltage (VDD_A): TBD; (3)External (I/O)Supply Voltage (VDD_EXT): –0.3 V to +4.6V; (4)DDR2 Controller Supply Voltage (VDD_DDR2): –0.5 V to +2.7V; (5)Input Voltage: –0.5 V to +3.8V; (6)Output Voltage Swing: –0.5 V to VDD_EXT +0.5V; (7)Load Capacitance: 200 pF; (8)Storage Temperature Range: –65℃ to +150℃; (9)Junction Temperature under Bias: 125℃.


Features
ADSP-21469BBCZ-3 features: (1)3 A continuous output current; (2)75 mΩ and 40 mΩ integrated FET; (3)±1.5% output accuracy; (4)Input voltage range from 2.3 V to 5.5 V; (5)Output voltage from 0.6 V to VIN; (6)600 kHz or 1.2 MHz fixed switching frequency; (7)Synchronizable between 600 kHz and 1.4 MHz; (8)Selectable synchronize phase shift: 0o or 180o; (9)Selectable PWM or PFM mode operation; (10)Current mode architecture; (11)Precision enable input; (12)Power good output; (13)Voltage tracking input; (14)Integrated soft start; (15)Internal compensation; (16)Starts up into a precharged output; (17)UVLO, OVP, OCP, and thermal shutdown; (18)Available in 16-lead 4mm × 4mm LFCSP_WQ package.



Diagrams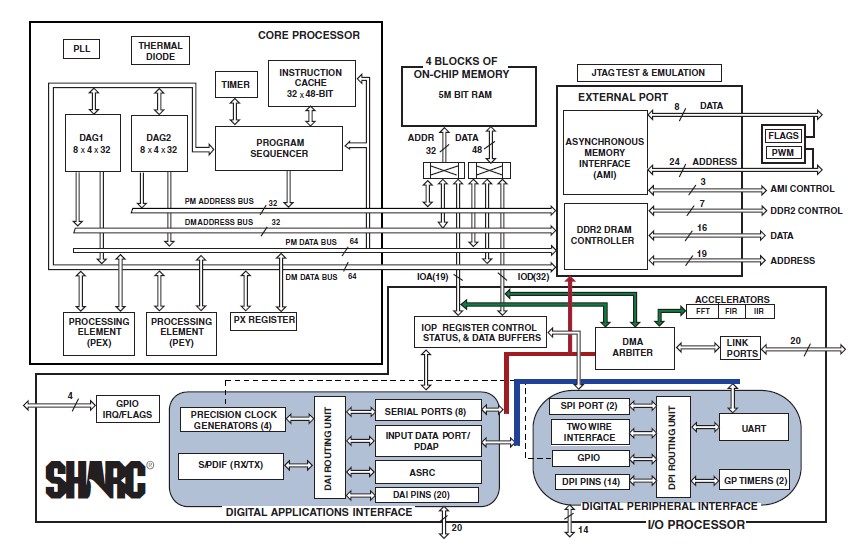 Image
Part No
Mfg
Description
Pricing
(USD)
Quantity

ADSP-21469BBCZ-3



IC DSP 32/40BIT 400MHZ 324BGA

Data Sheet



| | |
| --- | --- |
| 0-1: | $37.54 |
| 1-10: | $35.26 |
| 10-100: | $31.85 |
| 100-250: | $30.33 |

Image
Part No
Mfg
Description
Pricing
(USD)
Quantity

ADSP-2100

Other



Data Sheet

Negotiable

ADSP-2101BG-100



IC DSP CONTROLLER 16BIT 68PGA

Data Sheet



ADSP-2101BGZ-100

Analog Devices Inc

IC DSP 16BIT CTRL 25MHZ 68-PGA

Data Sheet

Negotiable

ADSP-2101BP-100



IC DSP CONTROLLER 16BIT 68PLCC

Data Sheet



ADSP-2101BPZ-100



IC DSP SLG 16BIT 25MHZ 68-PLCC

Data Sheet



| | |
| --- | --- |
| 0-1: | $31.64 |
| 1-10: | $29.78 |
| 10-100: | $26.62 |
| 100-250: | $25.13 |
| 250-500: | $24.82 |


ADSP-2101BS-100

Analog Devices Inc

IC DSP CONTROLLER 16BIT 80PQFP

Data Sheet

Negotiable