Product Summary
The AD9979BCPZ is a highly integrated CCD signal processor for high speed digital video camera applications. Specified at pixel rates of up to 65 MHz, the AD9979BCPZ consists of a complete analog front end with analog-to-digital conversion, combined with a programmable timing driver. The Precision Timing core allows adjustment of high speed clocks with approximately 240 ps resolution at 65 MHz operation. The AD9979BCPZ includes black-level clamping, CDS, VGA, and a 65 MSPS, 14-bit analog-to-digital converter. The timing driver provides the high speed CCD clock drivers for RG, HL, and H1 to H4. Operation is programmed using a 3-wire serial interface.


Parametrics
AD9979BCPZ absolute maximum ratings: (1)operating temperature range: -25℃ to +85℃; (2)analog and digital core supply voltage: 1.8 V.


Features
AD9979BCPZ features: (1)1.8 V analog and digital core supply voltage; (2)Correlated double sampler (CDS)with -3 dB, 0 dB, +3 dB, and +6 dB gain; (3)6 dB to 42 dB 10-bit variable gain amplifier (VGA); (4)14-bit 65 MHz analog-to-digital converter; (5)Black-level clamp with variable level control; (6)Complete on-chip timing generator; (7)Precision Timing core with 240 ps resolution @ 65 MHz; (8)On-chip 3 V horizontal and RG drivers; (9)General-purpose outputs (GPOs)for shutter and system support; (10)7 mm × 7 mm, 48-lead LFCSP package; (11)Internal LDO regulator circuitry.


Diagrams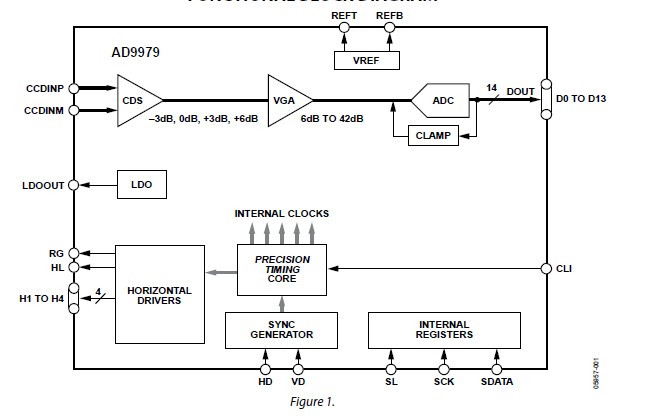 Image
Part No
Mfg
Description
Pricing
(USD)
Quantity

AD9979BCPZ



IC PROCESSOR CCD 14BIT 48-LFCSP

Data Sheet



| | |
| --- | --- |
| 0-1: | $13.21 |
| 1-10: | $12.22 |
| 10-100: | $10.43 |
| 100-250: | $9.58 |
| 250-500: | $9.11 |
| 500-1000: | $8.81 |


AD9979BCPZRL



IC PROCESSOR CCD 14BIT 48-LFCSP

Data Sheet



| | |
| --- | --- |
| 0-1: | $13.60 |
| 1-10: | $12.61 |
| 10-25: | $11.56 |
| 25-100: | $10.76 |
| 100-250: | $9.84 |
| 250-500: | $9.38 |
| 500-1000: | $8.85 |