Product Summary
The ADIS16405BMLZ is a triaxial inertial sensor with magnetometer. The ADIS16405BMLZ combines industry-leading iMEMS technology with signal conditioning that optimizes dynamic performance. The factory calibration characterizes each sensor for sensitivity, bias, alignment, and linear acceleration (gyroscope bias). As a result, each sensor has its own dynamic compensation for correction formulas that provide accurate sensor measurements over a temperature range of -40℃ to +85℃. The magnetometers employ a self-correction function to provide accurate bias performance over temperature, as well. The ADIS16405BMLZ provides a simple, cost-effective method for integrating accurate, multi-axis inertial sensing into industrial systems, especially when compared with the complexity and investment associated with discrete designs. All necessary motion testing and calibration are part of the production process at the factory, greatly reducing system integration time.


Parametrics
ADIS16405BMLZ absolute maximum ratings: (1)VCC to GND: -0.3 V to +6.0 V; (2)Digital Input Voltage to GND: -0.3 V to +5.3 V; (3)Digital Output Voltage to GND: -0.3 V to VCC + 0.3 V; (4)Analog Input to GND: -0.3 V to +3.6 V; (5)Operating Temperature Range: -40℃ to +105℃; (6)Storage Temperature Range: -65℃ to +125℃.


Features
ADIS16405BMLZ features: (1)triaxial, digital accelerometer, ±18 g; (2)triaxial, digital magnetometer, ±2.5 gauss; (3)autonomous operation and data collection; (4)spi-compatible serial interface; (5)embedded temperature sensor; (6)programmable operation and control; (7)automatic and manual bias correction controls; (8)bartlett-window fir length, number of taps; (9)digital i/o: data-ready, alarm indicator, general-purpose; (10)alarms for condition monitoring; (11)sleep mode for power management; (12)dac output voltage; (13)enable external sample clock input up to 1.2 khz; (14)single-command self-test; (15)single-supply operation: 4.75 v to 5.25 v; (16)2000 g shock survivability; (17)operating temperature range: -40℃ to +105℃.



Diagrams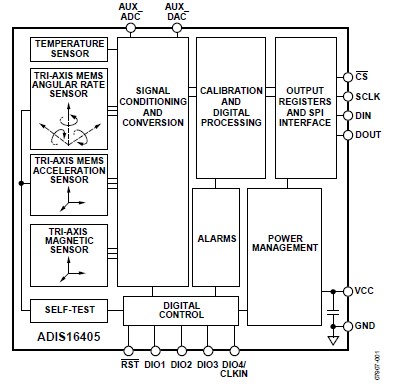 Image
Part No
Mfg
Description
Pricing
(USD)
Quantity

ADIS16405BMLZ



MODULE GYRO/ACCEL/MAG 24ML

Data Sheet


Image
Part No
Mfg
Description
Pricing
(USD)
Quantity

ADIS16003

Other



Data Sheet

Negotiable

ADIS16003/PCBZ



BOARD EVALUATION ADIS16003

Data Sheet



ADIS16003CCCZ



IC ACCELEROMETER DUAL AXIS 12LGA

Data Sheet



| | |
| --- | --- |
| 0-1: | $20.09 |
| 1-10: | $18.79 |
| 10-100: | $16.29 |
| 100-250: | $15.20 |
| 250-500: | $14.48 |


ADIS16006/PCB

Analog Devices Inc

BOARD EVAL FOR ADIS16006/PCB

Data Sheet

Negotiable

ADIS16006/PCBZ



BOARD EVAL FOR ADIS16006/PCB

Data Sheet



ADIS16006CCCZ



IC ACCELEROMETER DUAL AXIS 12LGA

Data Sheet



| | |
| --- | --- |
| 0-1: | $23.72 |
| 1-10: | $22.18 |
| 10-100: | $19.23 |
| 100-250: | $17.95 |
| 250-500: | $17.09 |