Product Summary
The CY7B933-JXC is a HOTLink Receiver. The CY7B933-JXC is point-to-point communications building blocks that transfer data over high-speed serial links (fiber, coax, and twisted pair). Standard HOTLink data rates range from 160 to 330 Mbits/second. Higher speed HOTLink is also available for high-speed applications (160–400 Mbits/second), as well as, for low-cost applications, HOTLink-155 (150–160 Mbits/second operations). Eight bits of user data or protocol information are loaded into the HOTLink transmitter and are encoded. Serial data is shifted out of the three differential positive ECL (PECL) serial ports at the bit rate (which is ten times the byte rate). The CY7B933-JXC accepts the serial bit stream at its differential line receiver inputs and, using a completely integrated PLL Clock Synchronizer, recovers the timing information necessary for data reconstruction. The bit stream is deserialized, decoded, and checked for transmission errors. Recovered bytes are presented in parallel to the receiving host along with a byte-rate clock.


Parametrics
CY7B933-JXC absolute maximum ratings: (1)Storage Temperature: –65℃ to +150℃; (2)Ambient Temperature with Power Applied: –55℃ to +125℃; (3)Supply Voltage to Ground Potential: –0.5V to +7.0V; (4)DC Input Voltage: –0.5V to +7.0V; (5)Output Current into TTL Outputs (LOW): 30 mA; (6)Output Current into PECL Outputs (HIGH): –50 mA; (7)Static Discharge Voltage: > 4001V; (8)Latch-up Current: > 200 mA.


Features
CY7B933-JXC features: (1)Fibre-Channel-compliant; (2)IBM ESCON -compliant; (3)DVB-ASI-compliant; (4)ATM-compliant; (5)8B/10B-coded or 10-bit unencoded; (6)Standard HOTLink: 160–330 Mbps; (7)High-speed HOTLink: 160–400 Mbps for high-speed applications; (8)Low-speed HOTLink: 150–160 Mbps for low-cost fiber applications; (9)TTL synchronous I/O; (10)No external phase locked-loop (PLL)components; (11)Triple PECL 100K serial outputs; (12)Dual PECL 100K serial inputs; (13)Low power: 350 mW (Tx), 650 mW (Rx); (14)Compatible with fiber-optic modules, coaxial cable, and twisted pair media; (15)Built-in Self-Test (BIST); (16)Single +5V supply; (17)28-pin SOIC/PLCC/LCC; (18)Pb-Free Packages Available.


Diagrams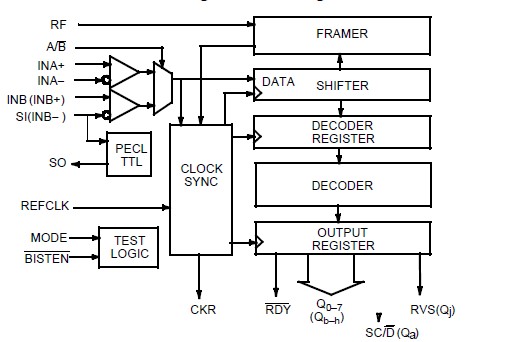 Image
Part No
Mfg
Description
Pricing
(USD)
Quantity

CY7B933-JXC

Cypress Semiconductor

Telecom Line Management ICs HOTLink Receiver COM

Data Sheet



| | |
| --- | --- |
| 0-1: | $39.81 |
| 1-25: | $34.36 |
| 25-100: | $32.56 |


CY7B933-JXCT

Cypress Semiconductor

Telecom Line Management ICs HOTLink RECEIVER STANDARD SPEED

Data Sheet



| | |
| --- | --- |
| 0-589: | $30.77 |
| 589-750: | $30.77 |