Product Summary
The TMS320F28015PZA is a digital signal processor. The TMS320F28015PZA is a very efficient C/C++ engine, hence enabling users to develop not only their system control software in a high-level language, but also enables math algorithms to be developed using C/C++. The TMS320F28015PZA is as efficient in DSP math tasks as it is in system control tasks that typically are handled by microcontroller devices. This efficiency removes the need for a second processor in many systems. The 32 x 32-bit MAC capabilities of the TMS320F28015PZA and its 64-bit processing capabilities, enable the C28x to efficiently handle higher numerical resolution problems that would otherwise demand a more expensive floating-point processor solution. Add to this the fast interrupt response with automatic context save of critical registers, resulting in a device that is capable of servicing many asynchronous events with minimal latency. The TMS320F28015PZA has an 8-level-deep protected pipeline with pipelined memory accesses. This pipelining enables the TMS320F28015PZA to execute at high speeds without resorting to expensive high-speed memories. Special branch-look-ahead hardware minimizes the latency for conditional discontinuities. Special store conditional operations further improve performance.

Parametrics
TMS320F28015PZA absolute maximum ratings: (1)Supply voltage range, VDDIO, VDD3VFL, with respect to VSS: -0.3 V to 4.6 V; (2)Supply voltage range, VDDA2, VDDAIO, with respect to VSSA: -0.3 V to 4.6 V; (3)Supply voltage range, VDD, with respect to VSS: -0.3 V to 2.5 V; (4)Supply voltage range, VDD1A18, VDD2A18, with respect to VSSA: -0.3 V to 2.5 V; (5)Supply voltage range, VSSA2, VSSAIO, VSS1AGND, VSS2AGND, with respect to VSS: -0.3 V to 0.3 V; (6)Input voltage range, VIN: -0.3 V to 4.6 V; (7)Output voltage range, VO: -0.3 V to 4.6 V; (8)Input clamp current, IIK (VIN < 0 or VIN > VDDIO): ±20 mA; (9)Output clamp current, IOK (VO < 0 or VO > VDDIO): ±20 mA; (10)Operating ambient temperature ranges, TA: A version (GGM, PZ): -40℃ to 85℃; TA: S version (GGM, PZ): -40℃ to 125℃; TA: Q version ( PZ): -40℃ to 125℃; (11)Junction temperature range, Tj: -40℃ to 150℃; (12)Storage temperature range, Tstg: -65℃ to 150℃.

Features
TMS320F28015PZA features: (1)High-Performance Static CMOS Technology; (2)JTAG Boundary Scan Support; (3)High-Performance 32-Bit CPU (TMS320C28x); (4)On-Chip Memory, F2809: 128K X 16 Flash, 18K X 16 SARAM; 1K x 16 OTP ROM (Flash Devices Only); (5)Boot ROM (4K x 16); (6)Clock and System Control; (7)Any GPIO A Pin Can Be Connected to One of the Three External Core Interrupts; (8)Peripheral Interrupt Expansion (PIE) Block That Supports All 43 Peripheral Interrupts; (9)128-Bit Security Key/Lock, Protects Flash/OTP/L0/L1 Blocks; Prevents Firmware Reverse Engineering; (10)Three 32-Bit CPU Timers; (11)Enhanced Control Peripherals; (12)Serial Port Peripherals; (13)12-Bit ADC, 16 Channels; (14)Up to 35 Individually Programmable, Multiplexed GPIO Pins With Input Filtering; (15)Advanced Emulation Features; (16)Development Support Includes: ANSI C/ C++ Compiler/ Assembler/ Linker; Code Composer Studio IDE; DSP/BIOS; Digital Motor Control and Digital Power Software Libraries; (17)Low-Power Modes and Power Savings; (18)Package Options: Thin Quad Flatpack (PZ); MicroStar BGA. (GGM, ZGM); (19)Temperature Options: A: -40℃ to 85℃ (PZ, GGM, ZGM).

Diagrams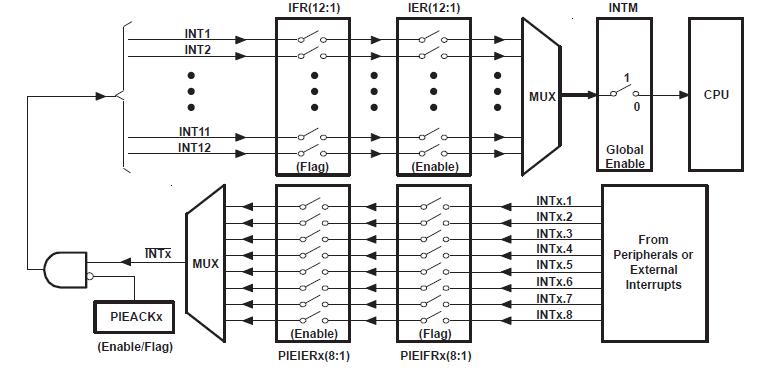 Image
Part No
Mfg
Description
Pricing
(USD)
Quantity

TMS320F28015PZA

Texas Instruments

Digital Signal Processors & Controllers (DSP, DSC) 32-Bit DSC w/ 32KB Flash

Data Sheet



| | |
| --- | --- |
| 0-1: | $3.71 |
| 1-25: | $3.46 |
| 25-100: | $2.71 |
| 100-250: | $2.65 |

Image
Part No
Mfg
Description
Pricing
(USD)
Quantity

TMS3112

Other



Data Sheet

Negotiable

TMS3121

Other



Data Sheet

Negotiable

TMS320

Other



Data Sheet

Negotiable

TMS32010

Other



Data Sheet

Negotiable

TMS320AV7110

Other



Data Sheet

Negotiable

TMS320BC51PQ100

Texas Instruments

Digital Signal Processors & Controllers (DSP, DSC) TMS320C51PQ - 132QFP - 100MHZ/BOOT CODE

Data Sheet

Negotiable