Product Summary
The LTM8021EV#PBF is a 36VIN 500mA, step-down DC/DC μModuleTM. Included in the package are the switching controller, power switches, inductor, and all support components. Operating over an input voltage range of 3V to 36V, the LTM8021EV#PBF supports an output voltage range of 0.8V to 5V, set by a single resistor. Only an output and bulk input capacitor are needed to fi nish the design. The low profile package (2.82mm) enables utilization of unused space on the bottom of PC boards for high density point of load regulation. A built-in soft-start timer is adjustable with just a resistor and capacitor.


Parametrics
LTM8021EV#PBF absolute maximum ratings: (1)VIN, RUN/SS Voltage: 40V; (2)RUN/SS Above VIN: 3V; (3)ADJ Voltage: 5V; (4)BIAS Voltage: 7V; (5)VOUT Voltage: 10V; (6)Internal Operating Temperature Range: –40℃ to 125℃; (7)Maximum Solder Temperature: 260℃; (8)Storage Temperature Range: –55℃ to 125℃.


Features
LTM8021EV#PBF features: (1)Complete Switch Mode Power Supply; (2)Wide Input Voltage Range: 3V to 36V; (3)500mA Output Current; (4)0.8V to 5V Output Voltage; (5)Fixed 1.1MHz Switching Frequency; (6)Current Mode Control; (7)(e4)RoHS Compliant Package with Gold Pad Finish; (8)Programmable Soft-Start; (9)Tiny, Low Profi le (11.25mm × 6.25mm × 2.82mm)Surface Mount LGA Package.


Diagrams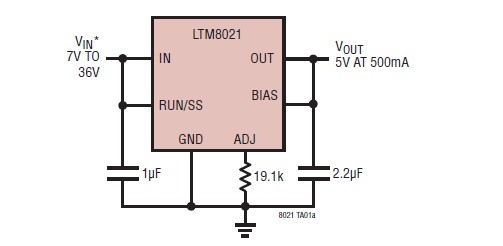 Image
Part No
Mfg
Description
Pricing
(USD)
Quantity

LTM8021EV#PBF



IC DC/DC UMODULE 500MA 35-LGA

Data Sheet



| | |
| --- | --- |
| 0-1: | $7.49 |
| 1-25: | $5.02 |
| 25-100: | $4.13 |

Image
Part No
Mfg
Description
Pricing
(USD)
Quantity

LTM8008HV#PBF



IC DC/DC UMODULE 16-LGA

Data Sheet



| | |
| --- | --- |
| 0-1: | $19.48 |
| 1-25: | $16.28 |
| 25-100: | $13.84 |


LTM8020

Other



Data Sheet

Negotiable

LTM8020EV#PBF



IC DC/DC UMODULE 200MA 21-LGA

Data Sheet



| | |
| --- | --- |
| 0-1: | $6.33 |
| 1-25: | $4.24 |
| 25-100: | $3.49 |


LTM8020IV#PBF



IC DC/DC UMODULE 200MA 21-LGA

Data Sheet



| | |
| --- | --- |
| 0-1: | $6.98 |
| 1-25: | $4.67 |
| 25-100: | $3.97 |


LTM8020MPV#PBF



IC DC/DC UMODULE 200MA 21-LGA

Data Sheet



| | |
| --- | --- |
| 0-1: | $13.00 |
| 1-25: | $8.69 |
| 25-100: | $7.39 |


LTM8021

Other



Data Sheet

Negotiable