Product Summary
The MAX3223IPWR is a 3V to 5.5V multichannel RS-232 line driver/receiver. The MAX3223IPWR consists of two line drivers, two line receivers, and a dual charge-pump circuit with ±15-kV ESD protection pin to pin (serial-port connection pins, including GND). The MAX3223IPWR meets the requirements of TIA/EIA-232-F and provides the electrical interface between an asynchronous communication controller and the serial-port connector. The charge pump and four small external capacitors allow operation from a single 3-V to 5.5-V supply. The MAX3223IPWR operates at data signaling rates up to 250 kbit/s and a maximum of 30-V/μs driver output slew rate.


Parametrics
MAX3223IPWR absolute maximum ratings: (1)Supply voltage range, VCC: -0.3 V to 6 V; (2)Positive output supply voltage range, V+: -0.3 V to 7 V; (3)Negative output supply voltage range, V-: 0.3 V to -7 V; (4)Supply voltage difference, V+ - V-: 13 V; (5)Input voltage range, VI: Driver, FORCEOFF, FORCEON, EN: -0.3 V to 6 V, Receiver: -25 V to 25 V; (6)Output voltage range, VO: Driver: -13.2 V to 13.2 V; (7)Receiver, INVALID: -0.3 V to VCC + 0.3 V; (8)Operating virtual junction temperature, TJ: 150℃; (9)Storage temperature range, Tstg: -65℃ to 150℃.


Features
MAX3223IPWR features: (1)RS-232 Bus-Pin ESD Protection Exceeds ±15 kV Using Human-Body Model (HBM); (2)Meets or Exceeds the Requirements of TIA/EIA-232-F and ITU v.28 Standards; (3)Operates With 3-V to 5.5-V VCC Supply; (4)Operates Up To 250 kbit/s; (5)Two Drivers and Two Receivers; (6)Low Standby Current . . . 1 μA Typical; (7)External Capacitors . . . 4 × 0.1 μF; (8)Accepts 5-V Logic Input With 3.3-V Supply; (9)Alternative High-Speed Pin-Compatible Device (1 Mbit/s).


Diagrams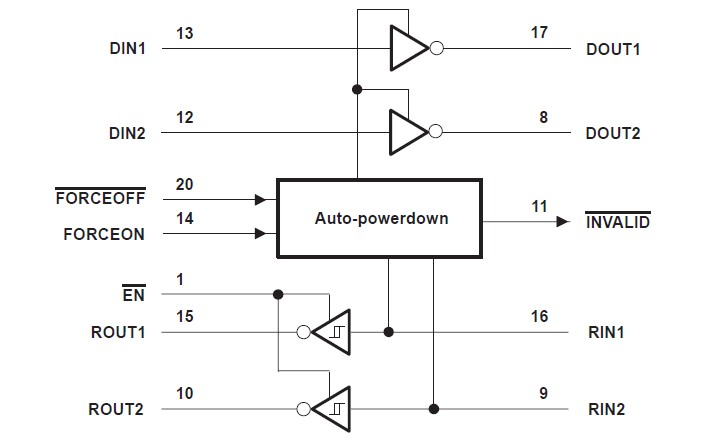 Image
Part No
Mfg
Description
Pricing
(USD)
Quantity

MAX3223IPWR

Texas Instruments

Buffers & Line Drivers 3-5.5V RS232

Data Sheet



| | |
| --- | --- |
| 0-1: | $1.45 |
| 1-25: | $1.12 |
| 25-100: | $1.01 |
| 100-250: | $0.84 |


MAX3223IPWRE4

Texas Instruments

RS-232 Interface IC 3-5.5V Multichannel Line Drvr/Rcvr

Data Sheet



| | |
| --- | --- |
| 0-1430: | $0.67 |
| 1430-2000: | $0.64 |
| 2000-5000: | $0.61 |
| 5000-10000: | $0.60 |


MAX3223IPWRG4

Texas Instruments

RS-232 Interface IC 3-5.5V Multich RS- 232 Line Drvr/Rcvr

Data Sheet



| | |
| --- | --- |
| 0-1430: | $0.67 |
| 1430-2000: | $0.64 |
| 2000-5000: | $0.61 |
| 5000-10000: | $0.60 |