Product Summary
The MAX1873REEE+T is a simple current-limited switch-mode Li charger controller. The MAX1873REEE+T provides all functions needed to simply and efficiently charge 2-, 3-, or 4- series lithium-ion cells at up to 4A or more. The MAX1873REEE+T provides a regulated charging current and voltage with less than ±0.75% total voltage error at the battery terminals. An external P-channel MOSFET operates in a step-down DC-DC configuration to efficiently charge batteries in low-cost designs. The MAX1873REEE+T regulates the battery voltage and charging current using two control loops that work together to transition smoothly between voltage and current regulation. An additional control loop limits current drawn from the input source so that AC adapter size and cost can be minimized. An analog voltage output proportional to charging current is also supplied so that an ADC or microcontroller can monitor charging current.


Parametrics
MAX1873REEE+T absolute maximum ratings: (1)CSSP, CSSN, DCIN to GND: -0.3V to +30V; (2)VL, ICHG/EN to GND: -0.3V to +6V; (3)VH, EXT to DCIN: -6V to +0.3V; (4)VH, EXT to GND : (VDCIN + 0.3V)to -0.3V; (5)EXT to VH : +6V to -0.3V; (6)DCIN to VL: +30V to -0.3V; (7)VADJ, REF, CCI, CCV, CCS,; (8)IOUT to GND: -0.3V to (VL + 0.3V); (9)BATT, CSB to GND: -0.3V to +20V; (10)CSSP to CSSN: -0.3V to +0.6V; (11)CSB to BATT: -0.3V to +0.6V; (12)VL Source Current : +50mA; (13)VH Sink Current : +40mA; (14)Continuous Power Dissipation (TA = +70℃)16-Pin QSOP (derate 8.3mW/℃ above +70℃: +667mW; (15)Operating Temperature Range: -40℃ to +85℃; (16)Junction Temperature: +150℃; (17)Storage Temperature Range : -65℃ to +150℃; (18)Lead Temperature (soldering, 10s): +300℃.


Features
MAX1873REEE+T features: (1)Low-Cost and Simple Circuit; (2)Charges 2-, 3-, or 4-Series Lithium-Ion Cells; (3)AC Adapter Input-Current-Limit Loop; (4)Also Charges Ni-Based Batteries; (5)Analog Output Monitors Charge Current; (6)±0.75% Battery-Regulation Voltage; (7)5μA Shutdown Battery Current; (8)Input Voltage Up to 28V; (9)200mV Dropout Voltage/100% Duty Cycle; (10)Adjustable Charging Current; (11)300kHz PWM Oscillator Reduces Noise; (12)Space-Saving 16-Pin QSOP; (13)MAX1873 Evaluation Kit Available to Speed Designs.


Diagrams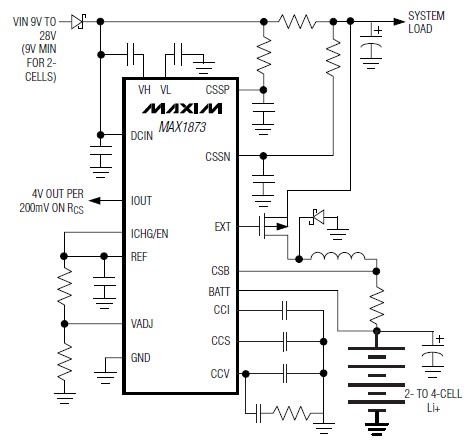 Image
Part No
Mfg
Description
Pricing
(USD)
Quantity

MAX1873REEE+T

Maxim Integrated Products

Battery Management Switch-Mode Li+ Charger

Data Sheet



| | |
| --- | --- |
| 0-2080: | $1.31 |
| 2080-2500: | $1.31 |

Image
Part No
Mfg
Description
Pricing
(USD)
Quantity

MAX10

Aavid Thermalloy

Heat Sinks 39.85 N (8.96 lbs)

Data Sheet

Negotiable

MAX100

Other



Data Sheet

Negotiable

MAX1002

Other



Data Sheet

Negotiable

MAX1002CAX

Maxim Integrated Products

ADC (A/D Converters)

Data Sheet

Negotiable

MAX1002CAX+

Maxim Integrated Products

ADC (A/D Converters) Low-Power 60Msps Dual 6-Bit

Data Sheet



| | |
| --- | --- |
| 0-1: | $5.87 |
| 1-25: | $3.91 |
| 25-50: | $2.89 |
| 50-100: | $2.83 |


MAX1002CAX+T

Maxim Integrated Products

ADC (A/D Converters) Low-Power 60Msps Dual 6-Bit

Data Sheet



| | |
| --- | --- |
| 0-780: | $2.56 |
| 780-1000: | $2.40 |