Product Summary
The ADP2118ACPZ-R7 is a low quiescent current, synchronous, step-down, dc-to-dc converter in a compact 4mm × 4mm LFCSP_WQ package. It uses a current mode, constant frequency pulse-width modulation (PWM) control scheme for excellent stability and transient response. Under light loads, the ADP2118ACPZ-R7 can be configured to operate in pulse frequency modulation (PFM) mode that reduces switching frequency to save power. The ADP2118 runs from input voltages of 2.3 V to 5.5 V. The output voltage of the ADP2118ACPZ-R7 is adjustable from 0.6 V to input voltage (VIN). The ADP2118ACPZ-R7 requires minimal external parts and provides a high efficiency solution with its integrated power switch, synchronous rectifier, and internal compensation.


Parametrics
ADP2118ACPZ-R7 absolute maximum ratings: (1)VIN, PVIN: -0.3 V to +6 V; (2)SW: -0.3 V to +6 V; (3)FB, SYNC/MODE, EN, TRK, FREQ, PGOOD: -0.3 V to +6 V; (4)PGND to GND: -0.3 V to +0.3 V; (5)Operating Junction Temperature Range: -40℃ to +125℃; (6)Storage Temperature Range: -65℃ to +150℃; (7)Soldering Conditions: JEDEC J-STD-020.



Features
ADP2118ACPZ-R7 features: (1)3 A continuous output current; (2)75 mΩ and 40 mΩ integrated FET; (3)±1.5% output accuracy; (4)Input voltage range from 2.3 V to 5.5 V; (5)Output voltage from 0.6 V to VIN; (6)600 kHz or 1.2 MHz fixed switching frequency; (7)Synchronizable between 600 kHz and 1.4 MHz; (8)Selectable synchronize phase shift: 0o or 180o; (9)Selectable PWM or PFM mode operation; (10)Current mode architecture; (11)Precision enable input; (12)Power good output; (13)Voltage tracking input; (14)Integrated soft start; (15)Internal compensation; (16)Starts up into a precharged output; (17)UVLO, OVP, OCP, and thermal shutdown; (18)Available in 16-lead 4mm × 4mm LFCSP_WQ package.


Diagrams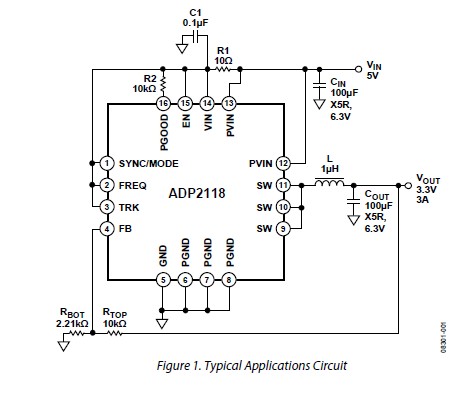 Image
Part No
Mfg
Description
Pricing
(USD)
Quantity

ADP2118ACPZ-R7



IC REG BUCK SYNC ADJ 3A 16LFCSP

Data Sheet



| | |
| --- | --- |
| 0-1: | $2.23 |
| 1-10: | $1.99 |
| 10-25: | $1.79 |
| 25-100: | $1.63 |
| 100-250: | $1.47 |
| 250-500: | $1.32 |

Image
Part No
Mfg
Description
Pricing
(USD)
Quantity

ADP2102-0.8-EVALZ



BOARD EVAL FOR ADP2102-0.8

Data Sheet



ADP2102-1.0-EVALZ



BOARD EVAL FOR ADP2102-1.0

Data Sheet



ADP2102-1.25-EVALZ



BOARD EVAL FOR ADP2102-1.25

Data Sheet



ADP2102-1.2-EVALZ



BOARD EVAL FOR 1.2V ADP2102

Data Sheet



ADP2102-1.375EVALZ



BOARD EVAL FOR ADP2102-1.375

Data Sheet



ADP2102-1.5-EVALZ



BOARD EVAL FOR ADP2102-1.5

Data Sheet