Product Summary
The AD7801BRUZ-REEL7 is a single, 8-bit, voltage out DAC that operates from a single +2.7 V to +5.5 V supply. Its on-chip precision output buffer allows the DAC output to swing rail to rail. The AD7801BRUZ-REEL7 has a parallel microprocessor and DSP compatible interface with high speed registers and double buffered interface logic. Data is loaded to the input register on the rising edge of CS or WR. Reference selection for the AD7801BRUZ-REEL7 can be either an internal reference derived from the VDD or an external reference applied at the REFIN pin. The output of the DAC can be cleared by using the asynchronous CLR input.


Parametrics
AD7801BRUZ-REEL7 absolute maximum ratings: (1)VDD to GND: –0.3 V to +7 V; (2)Reference Input Voltage to AGND: –0.3 V to VDD + 0.3 V; (3)Digital Input Voltage to DGND: –0.3 V to VDD + 0.3 V; (4)AGND to DGND: –0.3 V to +0.3 V; (5)VOUT to AGND: –0.3 V to VDD + 0.3 V; (6)Operating Temperature Range; (7)Commercial (B Version): –40℃ to +105℃; (8)Storage Temperature Range: –65℃ to +150℃; (9)Junction Temperature: 150℃; (10)SSOP Package, Power Dissipation: 700 mW; (11)Lead Temperature, Soldering Vapor Phase (60 sec): 215℃, Infrared (15 sec): 220℃.


Features
AD7801BRUZ-REEL7 features: (1)Single 8-Bit DAC; (2)20-Pin SOIC/TSSOP Package; (3)+2.7 V to +5.5 V Operation; (4)Internal and External Reference Capability; (5)DAC Power-Down Function; (6)Parallel Interface; (7)On-Chip Output Buffer Rail-to-Rail Operation; (8)Low Power Operation 1.75 mA max @ 3.3 V; (9)Power-Down to 1 mA max @ 25℃.



Diagrams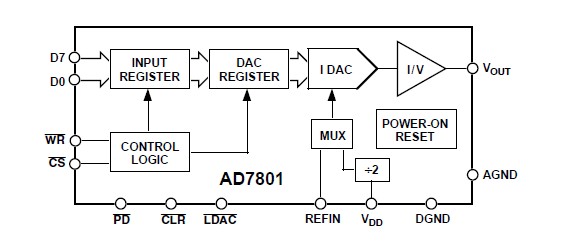 Image
Part No
Mfg
Description
Pricing
(USD)
Quantity

AD7801BRUZ-REEL7



IC DAC 8BIT PARALLEL INP 20TSSOP

Data Sheet


Image
Part No
Mfg
Description
Pricing
(USD)
Quantity

AD78

Trompeter / Emerson Connectivity Solutions

RF Adapters - In Series TRB Barrel Adapter Female to Female

Data Sheet



| | |
| --- | --- |
| 0-1: | $14.49 |
| 1-10: | $12.85 |
| 10-25: | $12.51 |
| 25-100: | $12.03 |


AD780

Other



Data Sheet

Negotiable

AD7801

Other



Data Sheet

Negotiable

AD7801BR



IC DAC 8BIT 2.7V 20-SOIC

Data Sheet



AD7801BR-REEL

Analog Devices Inc.

IC DAC 8BIT PARALLEL INP 20-SOIC

Data Sheet

Negotiable

AD7801BR-REEL7

Analog Devices Inc.

IC DAC 8BIT PARALLEL INP 20-SOIC

Data Sheet

Negotiable