Product Summary
The MC33984BPNAR2 is a dual self-protected 4.0 mΩ silicon switch used to replace electromechanical relays, fuses, and discrete devices in power management applications. The MC33984BPNAR2 is designed for harsh environments, and it includes self-recovery features. The device is suitable for loads with high inrush current, as well as motors and all types of resistive and inductive loads. Programming, control, and diagnostics are implemented via the Serial Peripheral Interface (SPI). A dedicated parallel input is available for alternate and pulse-width modulation (PWM) control of each output. SPI-programmable fault trip thresholds allow the device to be adjusted for optimal performance in the application. The MC33984BPNAR2 is packaged in a power-enhanced 12 x 12 nonleaded PQFN package with exposed tabs.


Parametrics
MC33984BPNAR2 absolute maximum ratings: (1)Operating Voltage Range Steady-State VPWR: -16 to 41 V; (2)VDD Supply Voltage VDD: -0.3 to 5.5 V; (3)Input/Output Voltage: -0.3 to 7.0 V; (4)SO Output Voltage VSO: -0.3 to VDD+0.3 V; (5)WAKE Input Clamp Current ICL(WAKE): 2.5mA; (6)CSNS Input Clamp Current ICL(CSNS): 10mA; (7)Output Voltage Positive Negative VHS: 41 -15V; (8)Output Current IHS[0: 1]: 30A; (9)Output Clamp Energy: 0.75J; (10)ESD Voltage: ±2000V; (11)Operating Temperature Ambient Junction TA TJ: -40 to 125℃.


Features
MC33984BPNAR2 features: (1)Dual 4.0mΩ Max High-Side Switch with Parallel Input or SPI Control; (2)6.0V to 27 V Operating Voltage with Standby Currents < 5.0 μA; (3)Output Current Monitoring with Two SPI-Selectable Current Ratios; (4)SPI Control of Overcurrent Limit, Overcurrent Fault Blanking Time, Output-OFF Open Load Detection, Output ON/OFF Control, Watchdog Timeout, Slew Rates, and Fault Status Reporting; (5)SPI Status Reporting of Overcurrent, Open and Shorted Loads, Overtemperature, Undervoltage and Overvoltage Shutdown, Fail-Safe Pin Status, and Program Status; (6)Enhanced -16 V Reverse Polarity VPWR Protection.


Diagrams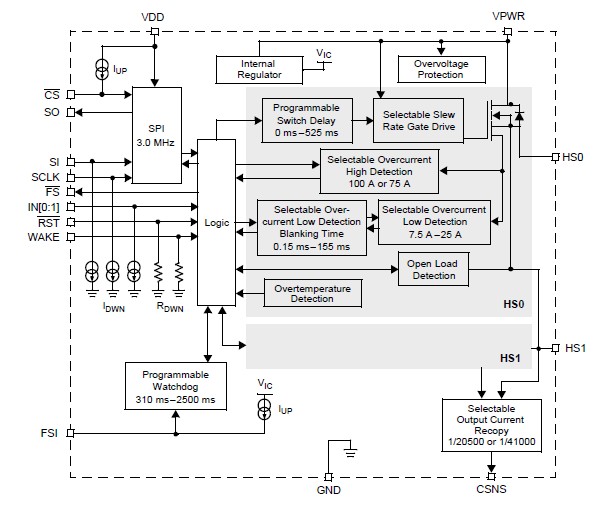 Image
Part No
Mfg
Description
Pricing
(USD)
Quantity

MC33984BPNAR2

Freescale Semiconductor

Power Switch ICs - Power Distribution SPD4

Data Sheet

Negotiable
Image
Part No
Mfg
Description
Pricing
(USD)
Quantity

MC3302/4

Other



Data Sheet

Negotiable

MC33023

Other



Data Sheet

Negotiable

MC33023DW

ON Semiconductor

Current Mode PWM Controllers Single Ended Voltage

Data Sheet

Negotiable

MC33023DWG

ON Semiconductor

Current Mode PWM Controllers Single Ended Voltage or Current Mode PWM

Data Sheet



| | |
| --- | --- |
| 0-1: | $3.14 |
| 1-25: | $2.62 |
| 25-100: | $1.60 |
| 100-500: | $1.57 |


MC33023DWR2

ON Semiconductor

Current Mode PWM Controllers Single Ended Voltage

Data Sheet

Negotiable

MC33023DWR2G

ON Semiconductor

Current Mode PWM Controllers Single Ended Voltage or Current Mode PWM

Data Sheet



| | |
| --- | --- |
| 0-490: | $1.87 |
| 490-500: | $1.51 |
| 500-1000: | $1.27 |
| 1000-2000: | $1.21 |