Product Summary
The AD7476ARTZ-REEL7 is a 12-bit, high speed, low power, successive-approximation ADC. The parts operate from a single 2.35 V to 5.25 V power supply and feature throughput rates up to 1 MSPS. The parts contain a low noise, wide bandwidth track-and-hold amplifier that can handle input frequencies in excess of 6 MHz. The applications of the AD7476ARTZ-REEL7 are Battery-Powered Systems, Personal Digital Assistants, Medical Instruments, Mobile Communications, Instrumentation and Control Systems, Data Acquisition Systems, High Speed Modems and Optical Sensors.

Parametrics
AD7476ARTZ-REEL7 absolute maximum ratings: (1)VDD to GND: –0.3 V to +7 V; (2)Analog Input Voltage to GND: –0.3 V to VDD + 0.3 V; (3)Digital Input Voltage to GND: –0.3 V to +7 V; (4)Digital Output Voltage to GND: –0.3 V to VDD + 0.3 V; (5)Input Current to Any Pin Except Supplies: ±10 mA; (6)Operating Temperature Range: –40 to +85℃; (7)Storage Temperature Range: –65 to +150℃; (8)Junction Temperature: 150℃; (9)θJA Thermal Impedance: 230℃/W; (10)θJC Thermal Impedance: 92℃/W; (11)Lead Temperature, Soldering: 235 (0/+5)℃; (12)ESD: 3.5 kV.

Features
AD7476ARTZ-REEL7 features: (1)Fast Throughput Rate: 1 MSPS; (2)Specified for VDD of 2.35 V to 5.25 V; (3)Low Power: 3.6 mW Typ at 1 MSPS with 3 V Supplies; 15 mW Typ at 1 MSPS with 5 V Supplies; (4)Wide Input Bandwidth: 70 dB SNR at 100 kHz Input Frequency; (5)Flexible Power/Serial Clock Speed Management; (6)No Pipeline Delays; (7)High Speed Serial Interface; (8)Standby Mode: 1 μA Max; (9)6-Lead SOT-23 Package.

Diagrams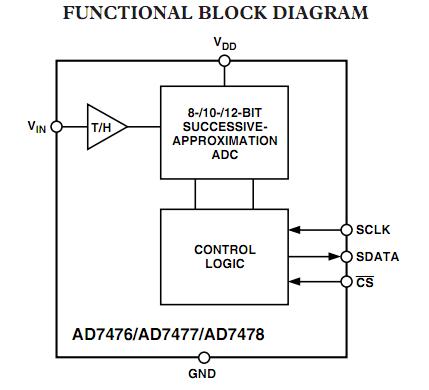 Image
Part No
Mfg
Description
Pricing
(USD)
Quantity

AD7476ARTZ-REEL7



IC ADC 12BIT 1MSPS LP SOT23-6

Data Sheet


Image
Part No
Mfg
Description
Pricing
(USD)
Quantity

AD7400

Other



Data Sheet

Negotiable

AD7400A

Other



Data Sheet

Negotiable

AD7400AYNSZ



IC MODULATOR SIGMADELTA 8-SMD

Data Sheet

Negotiable

AD7400AYRWZ



IC MODULATOR SIGMA-DELTA 16SOIC

Data Sheet



| | |
| --- | --- |
| 0-1: | $4.85 |
| 1-10: | $4.36 |
| 10-100: | $3.59 |
| 100-250: | $3.30 |
| 250-500: | $3.00 |
| 500-1000: | $2.62 |
| 1000-2500: | $2.58 |


AD7400AYRWZ-RL



IC MODULATOR SIGMA-DELTA 16SOIC

Data Sheet



AD7400YRWZ



IC MODULATOR SIGMA-DELTA 16-SOIC

Data Sheet