Product Summary
The MC9S08GB60ACFUE is a low-cost, high-performance 8-bit microcontroller unit (MCU). The MC9S08GB60ACFUE uses the enhanced HCS08 core and are available with a variety of modules, memory sizes, memory types, and package types.


Parametrics
MC9S08GB60ACFUE absolute maximum ratings: (1)Supply voltage VDD: –0.3 to +3.8 V; (2)Maximum current into VDD IDD: 120 mA; (3)Digital input voltage VIn: –0.3 to VDD + 0.3 V; (4)Instantaneous maximum current Single pin limit (applies to all port pins)ID: ± 25 mA; (5)Storage temperature range Tstg: –55 to 150 ℃.


Features
MC9S08GB60ACFUE features: (1)40-MHz HCS08 CPU (central processor unit); (2)HC08 instruction set with added BGND instruction; (3)Background debugging system; (4)Breakpoint capability to allow single breakpoint setting during in-circuit debugging (plus two more breakpoints in on-chip debug module); (5)Debug module containing two comparators and nine trigger modes. Eight deep FIFO for storing change-of-flow addresses and event-only data. Debug module supports both tag and force breakpoints.; (6)Support for up to 32 interrupt/reset sources; (7)Power-saving modes: wait plus three stops; (8)On-chip random-access memory (RAM); (9)8-channel, 10-bit analog-to-digital converter (ATD); (10)Two serial communications interface modules (SCI); (11)Serial peripheral interface module (SPI); (12)8-pin keyboard interrupt module (KBI); (13)16 high-current pins (limited by package dissipation); (14)Software selectable pullups on ports when used as input. Selection is on an individual port bit basis; (15)During output mode, pullups are disengaged.; (16)Internal pullup on RESET and IRQ pin to reduce customer system cost; (17)Up to 56 general-purpose input/output (I/O)pins, depending on package selection.


Diagrams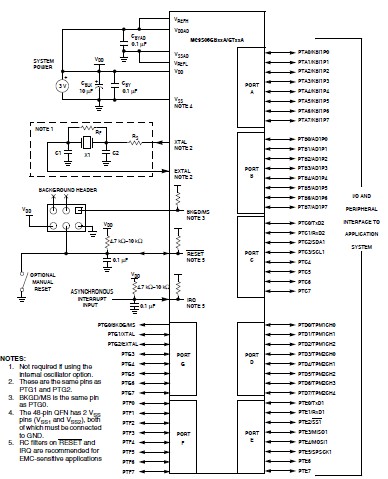 Image
Part No
Mfg
Description
Pricing
(USD)
Quantity

MC9S08GB60ACFUE

Freescale Semiconductor

8-bit Microcontrollers (MCU) 8BIT 60K FLASH 4K RAM

Data Sheet



| | |
| --- | --- |
| 0-1: | $4.04 |
| 1-25: | $3.65 |
| 25-50: | $3.12 |
| 50-100: | $2.53 |


MC9S08GB60ACFUER

Freescale Semiconductor

8-bit Microcontrollers (MCU) 8BIT 60K FLASH 4K RAM

Data Sheet