Product Summary
The M4A5-256/128-10YNC is a high performance E 2 CMOS in-system programmable logic. The M4A5-256/128-10YNC offers an exceptionally flexible architecture and delivers a superior Complex Programmable Logic Device (CPLD) solution of easy-to-use silicon products and software tools. The overall benefits for users are a guaranteed and predictable CPLD solution, faster time-to-market, greater flexibility and lower cost. The ispMACH 4A devices offer densities ranging from 32 to 512 macrocells with 100% utilization and 100% pin-out retention. The M4A5-256/128-10YNC offers 5-V (M4A5-xxx) and 3.3-V (M4A3-xxx) operation. ispMACH 4A products are 5-V or 3.3-V in-system programmable through the JTAG (IEEE Std. 1149.1) interface. JTAG boundary scan testing also allows product testability on automated test equipment for device connectivity.


Parametrics
M4A5-256/128-10YNC absolute maximum ratings: (1)Storage Temperature: -65℃ to +150℃; (2)Ambient Temperature with Power Applied: -55℃ to +100℃; (3)Device Junction Temperature: +130℃; (4)Supply Voltage with Respect to Ground: -0.5 V to +7.0 V; (5)DC Input Voltage: -0.5 V to VCC + 0.5 V; (6)Static Discharge Voltage: 2000 V; (7)Latchup Current (TA = -40℃ to +85℃): 200 mA.


Features
M4A5-256/128-10YNC features: (1)High-performance, E2CMOS 3.3-V & 5-V CPLD families; (2)Flexible architecture for rapid logic designs; (3)High speed; (4)32 to 512 macrocells; 32 to 768 registers; (5)44 to 388 pins in PLCC, PQFP, TQFP, BGA, fpBGA and caBGA packages; (6)Flexible architecture for a wide range of design styles; (7)Advanced capabilities for easy system integration; (8)Advanced E2CMOS process provides high-performance, cost-effective solutions; (9)Supported by ispDesignEXPERTTM software for rapid logic development.


Diagrams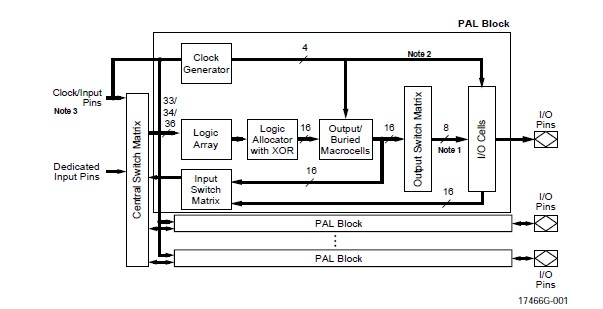 Image
Part No
Mfg
Description
Pricing
(USD)
Quantity

M4A5-256/128-10YNC

Lattice

CPLD - Complex Programmable Logic Devices HI PERF E2CMOS PLD

Data Sheet



| | |
| --- | --- |
| 0-1: | $26.52 |
| 1-25: | $23.67 |
| 25-100: | $20.10 |

Image
Part No
Mfg
Description
Pricing
(USD)
Quantity

M4A5-128/64-10VC

Lattice

CPLD - Complex Programmable Logic Devices HI PERF E2CMOS PLD

Data Sheet



| | |
| --- | --- |
| 0-1: | $7.02 |
| 1-25: | $6.27 |
| 25-100: | $5.32 |


M4A5-128/64-10VI

Lattice

CPLD - Complex Programmable Logic Devices HI PERF E2CMOS PLD

Data Sheet



| | |
| --- | --- |
| 0-1: | $17.97 |
| 1-25: | $16.05 |
| 25-100: | $13.65 |


M4A5-128/64-10VNC

Lattice

CPLD - Complex Programmable Logic Devices HI PERF E2CMOS PLD

Data Sheet



| | |
| --- | --- |
| 0-1: | $6.99 |
| 1-25: | $6.24 |
| 25-100: | $5.29 |


M4A5-128/64-10VNI

Lattice

CPLD - Complex Programmable Logic Devices HI PERF E2CMOS PLD

Data Sheet



| | |
| --- | --- |
| 0-1: | $17.94 |
| 1-25: | $16.02 |
| 25-100: | $13.61 |


M4A5-128/64-10YC

Lattice

CPLD - Complex Programmable Logic Devices HI PERF E2CMOS PLD

Data Sheet



| | |
| --- | --- |
| 0-1: | $7.02 |
| 1-25: | $6.27 |
| 25-100: | $5.32 |


M4A5-128/64-10YI

Lattice

CPLD - Complex Programmable Logic Devices HI PERF E2CMOS PLD

Data Sheet



| | |
| --- | --- |
| 0-1: | $17.97 |
| 1-25: | $16.05 |
| 25-100: | $13.65 |