Product Summary
The LT1807IS8#PBF is a single/dual low noise rail-to-rail input and output unity-gain stable op amp that feature a 325MHz gain-bandwidth product, a 140V/μs slew rate and a 85mA output current. They are optimized for low voltage, high performance signal conditioning systems. The LT1807IS8#PBF have a very low distortion of – 80dBc at 5MHz, a low input referred noise voltage of 3.5nV/√Hz and a maximum offset voltage of 550μV that allows them to be used in high performance data acquisition systems. The LT1807IS8#PBF has an input range that includes both supply rails and an output that swings within 20mV of either supply rail to maximize the signal dynamic range in low supply applications.


Parametrics
LT1807IS8#PBF absolute maximum ratings: (1)Total Supply Voltage (V+ to V –): 12.6V; (2)Input Voltage: ±VS; (3)Input Current: ±10mA; (4)Output Short-Circuit Duration: Indefi nite; (5)Operating Temperature Range: –40℃ to 85℃; (6)Specifi ed Temperature Range: –40℃ to 85℃; (7)Junction Temperature: 150℃; (8)Storage Temperature Range: –65℃ to 150℃; (9)Lead Temperature (Soldering, 10 sec): 300℃.


Features
LT1807IS8#PBF features: (1)gaibandwidth product: 325mhz; (2)slew rate: 140v/μs; (3)wide supply range: 2.5v to 12.6v; (4)large output current: 85ma; (5)low distortion, 5mhz: –80dbc; (6)low voltage noise: 3.5nv/√hz; (7)input commomode range includes both rails; (8)output swings rail-to-rail; (9)input offset voltage (rail-to-rail): 550μv max; (10)commomode rejection: 106db typ; (11)power supply rejection: 105db typ; (12)unity-gaistable; (13)power dowpi(lt1806); (14)operating temperature range: – 40℃ to 85℃; (15)single iso-8 and 6-pisot-23 packages; (16)dual iso-8 and 8-pimsop packages.


Diagrams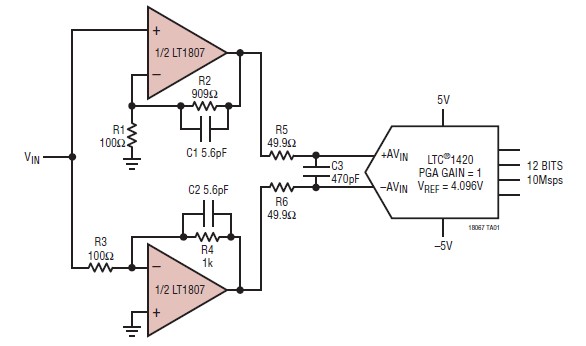 Image
Part No
Mfg
Description
Pricing
(USD)
Quantity

LT1807IS8#PBF



IC OPAMP R-R I/O DUAL LN 8SOIC

Data Sheet



| | |
| --- | --- |
| 0-1: | $4.37 |
| 1-25: | $2.90 |
| 25-100: | $2.25 |

Image
Part No
Mfg
Description
Pricing
(USD)
Quantity

LT1800

Other



Data Sheet

Negotiable

LT1800CS5#TR



IC OPAMP R-RIN/OUT LP TSOT-23-5

Data Sheet



LT1800CS5#TRMPBF



IC OPAMP R-RIN/OUT LP TSOT-23-5

Data Sheet



| | |
| --- | --- |
| 0-1: | $2.01 |
| 1-25: | $1.79 |
| 25-100: | $1.61 |


LT1800CS5#TRPBF



IC OPAMP R-RIN/OUT LP TSOT-23-5

Data Sheet



LT1800CS8



IC OP-AMP R-R IN/OUT LOPWR 8SOIC

Data Sheet



LT1800CS5#TRM



IC OPAMP R-RIN/OUT LP TSOT23-5

Data Sheet

Negotiable