Product Summary
The ADP3338AKCZ-5-R7 is a precision low dropout anyCAP voltage regulator. The ADP3338AKCZ-5-R7 operates with an input voltage range of 2.7 V to 8 V and delivers a load current up to 1 A. The ADP3338AKCZ-5-R7 stands out from the conventional LDOs with a novel architecture and an enhanced process that enables it to offer performance advantages and higher output current than its competition. Its patented design requires only a 1 μF output capacitor for stability. This device is insensitive to output capacitor Equivalent Series Resistance (ESR), and is stable with any good quality capacitor, including ceramic (MLCC) types for space-restricted applications. The ADP3338AKCZ-5-R7 achieves exceptional accuracy of ±0.8% at room temperature and ±1.4% over temperature, line and load variations. The dropout voltage of the ADP3338 is only 190 mV (typical) at 1 A. This device also includes a safety current limit and thermal overload protection. The ADP3338AKCZ-5-R7 has ultralow quiescent current 110 μA (typical) in light load situations.


Parametrics
ADP3338AKCZ-5-R7 absolute maximum ratings: (1)Input Supply Voltage: -0.3 V to +8.5 V; (2)Power Dissipation: Internally Limited; (3)Operating Ambient Temperature Range: -40℃ to +85℃; (4)Operating Junction Temperature Range: -40℃ to +150℃; (5)Storage Temperature Range: -65℃ to +150℃; (6)Lead Temperature Range (Soldering 10 sec): 300℃; (7)Vapor Phase (60 sec): 215℃; (8)Infrared (15 sec): 220℃.


Features
ADP3338AKCZ-5-R7 features: (1)High Accuracy Over Line and Load: 0.8% @ 25℃, 1.4% Over Temperature; (2)Ultralow Dropout Voltage: 190 mV (Typ)@ 1 A; (3)Requires Only CO = 1 for Stability anyCAP = Stable with Any Type of Capacitor (Including MLCC); (4)Current and Thermal Limiting; (5)Low Noise; (6)2.7 V to 8 V Supply Range; (7)–40℃ to +85℃ Ambient Temperature Range; (8)SOT-223 Package.


Diagrams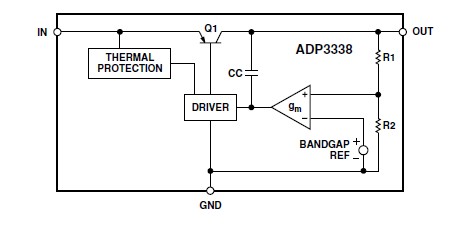 Image
Part No
Mfg
Description
Pricing
(USD)
Quantity

ADP3338AKCZ-5-R7



IC REG LDO 5V 1A SOT223

Data Sheet



| | |
| --- | --- |
| 0-1: | $1.71 |
| 1-10: | $1.53 |
| 10-25: | $1.38 |
| 25-100: | $1.25 |
| 100-250: | $1.13 |

Image
Part No
Mfg
Description
Pricing
(USD)
Quantity

ADP300

LeCroy

Test Probes Differential Probe 1,400 V, 20 MHz

Data Sheet



ADP3000

Other



Data Sheet

Negotiable

ADP3020

Other



Data Sheet

Negotiable

ADP3025

Other



Data Sheet

Negotiable

ADP3026

Other



Data Sheet

Negotiable

ADP3041

Other



Data Sheet

Negotiable