Product Summary
The AD10242BZ is a 40 MSPS MCM A/D Converter. Each channel is laser trimmed for gain and offset matching and provides channelto- channel crosstalk performance better than 80 dB. The AD10242BZ operates with ±5.0 V for the analog signal conditioning with a separate +5.0 V supply for the analog-to-digital conversion. Each channel is completely independent allowing operation with independent encode or analog inputs. The AD10242BZ also offers the user a choice of analog input signal ranges to minimize additional signal conditioning required for multiple functions within a single system.


Parametrics
AD10242BZ absolute maximum ratings: (1)VCC Voltage: 0 to 7 V; (2)Analog Input Current: +10 mA; (3)Digital Input Voltage (ENCODE): VCC V; (4)ENCODE, ENCODE Differential Voltage: 4 V; (5)Digital Output Current: +40 mA; (6)Operating Temperature (Case): –55 to +125 ℃; (7)Maximum Junction Temperature: +175 ℃; (8)Lead Temperature (Soldering, 10 sec): +300 ℃; (9)Storage Temperature Range (Ambient): –65 to +150 ℃.


Features
AD10242BZ features: (1)Two Matched ADCs with Input Signal Conditioning; (2)Selectable Bipolar Input Voltage Range; (3)(60.5 V, 61.0 V, 62.0 V); (4)Full MIL-STD-883B Compliant; (5)80 dB Spurious-Free Dynamic Range; (6)Trimmed Channel-Channel Matching.


Diagrams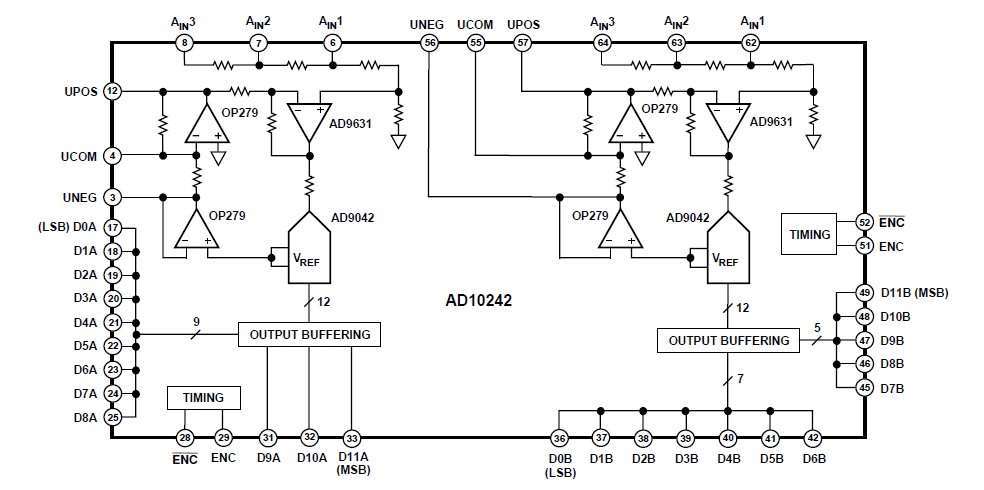 Image
Part No
Mfg
Description
Pricing
(USD)
Quantity

AD10242BZ



IC ADC DUAL 12BIT 68-CLCC

Data Sheet


Image
Part No
Mfg
Description
Pricing
(USD)
Quantity

AD10

Cooper Bussmann

Fuses 10A 550Vac250Vdc IND

Data Sheet



| | |
| --- | --- |
| 0-1: | $14.50 |
| 1-10: | $13.85 |
| 10-100: | $13.19 |
| 100-250: | $12.52 |


AD100

Other



Data Sheet

Negotiable

AD100-10-TO5I

Pacific Silicon Sensor

Photodiodes 500um active area APD chip w/ IR

Data Sheet



| | |
| --- | --- |
| 0-10: | $55.93 |
| 10-50: | $51.94 |


AD10048P3L-001

Emerson / Astec Power

Plug-In AC Adapters 100W 48V 2.08A

Data Sheet

Negotiable

AD100-8-S1

Pacific Silicon Sensor

Photodiodes AD100-8-S1 120-160V

Data Sheet



| | |
| --- | --- |
| 0-10: | $29.07 |
| 10-50: | $26.72 |


AD102

Other



Data Sheet

Negotiable