Product Summary
The BSM150GB120DLC is a 62mm C-series IGBT module with low loss IGBT2 and EmCon diode.

Parametrics
BSM150GB120DLC absolute maximum ratings: (1)collector-emitter voltage: 600V; (2)repetitive peak collector current: 300A; (3)total power dissipation: 1250W; (4)gate-emitter peak voltage: ±20V; (5)DC-collector current:TC=80℃, Tvj=150℃: 150A, TC=25℃, Tvj=150℃: 300A.

Features
BSM150GB120DLC features: (1)gate threshold voltage:4.5V to 6.5V; (2)gate charge:1.60μC; (3)internal gate resistor:2.5Ω; (4)input capacitance:11.0nF; (5)reverse transfer capacitance:0.70nF; (6)collector-emitter cut-off current:5.0mA; (7)gate-emitter leakage current:400nA.

Diagrams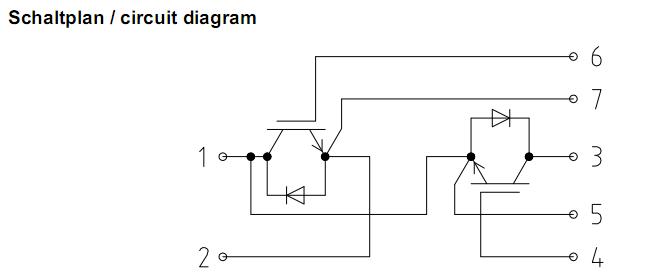 Image
Part No
Mfg
Description
Pricing
(USD)
Quantity

BSM150GB120DLC

Infineon Technologies

IGBT Modules 1200V 150A DUAL

Data Sheet


Image
Part No
Mfg
Description
Pricing
(USD)
Quantity

BSM100GAL120DLCK

Infineon Technologies

IGBT Modules 1200V 100A CHOPPER

Data Sheet



BSM100GAL120DN2

Infineon Technologies

IGBT Modules 1200V 100A CHOPPER

Data Sheet

Negotiable

BSM100GAR120DN2

Infineon Technologies

IGBT Transistors 1200V 100A DUAL

Data Sheet

Negotiable

BSM100GB120DLC

Infineon Technologies

IGBT Modules 1200V 100A DUAL

Data Sheet



BSM100GB120DLCK

Infineon Technologies

IGBT Modules 1200V 100A DUAL

Data Sheet



| | |
| --- | --- |
| 0-1: | $49.93 |
| 1-5: | $47.43 |
| 5-10: | $44.93 |
| 10-50: | $43.44 |


BSM100GB120DN2

Infineon Technologies

IGBT Modules 1200V 100A DUAL

Data Sheet